LiveJournal was the first blogging platform I used when I was getting my feet wet with blogs. I had no idea what "blog" meant but I had an open mind and was willing to learn.

For more than four years I've been posting daily entries into Epiac's Place trying to please my readers, and at the same time, learning the English language. As you probably know, my native language is Spanish. It has been a rewarding intellectual ride. As I gathered more experience, I realized that LiveJournal was not the best platform for my growing blogging needs. That took me to WordPress where I opened a blog dubbed Lingua Franca. This blog was started on January 1, 2008.

I decided to keep Epiac's Place as a backup blog in case WordPress would crash or something like that. It happened to me once with a blogging site called WordCharm. So far, my experience with WordPress has been extra-ordinary. Everything I need is there at the tip of my fingers. In my humble opinion, it's the best blogging platform available today on the Internet.

In view of the above, I have decided to mothball Epiac's Place and keep on posting my daily entries at Lingua Franca. I take this opportunity to thank the staff of LiveJournal for all their guidance and support during the four years I used their software. It was an exciting blogging education. To my readers, I encourage you to switch to Lingua Franca by clicking here. You will find the same type of content you have been reading here.

Thank you very much once again, and I shall wait for you at Lingua Franca. Good Bye and Welcome!
Current Location:

Panama City, Panama

Current Mood:

nostalgic

Current Music:

Adagio in G Minor For Strings and Organ by T. Albinoni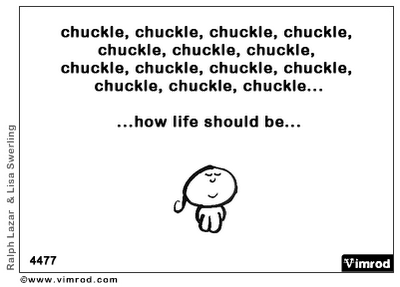 The testicles of a midget hurt and ached almost all the time. So he went to the doctor and told him about his problem.
The doctor told him to drop his pants and he would take a look. The midget dropped his pants. The doctor stood him up onto the examining table, and started to examine him. He put one finger under his left testicle and told the midget to turn his head and cough, the usual method to check for a hernia.
"Aha!"
mumbled the doctor, and as he put his finger under the right testicle, he asked the midget to cough again.
"Aha!"
said the doctor once more, and reached for his surgical scissors. Snip-snip-snip-snip on the right side… then snip-snip-snip-snip on the left side.
The midget was so scared he was afraid to look, but noted with amazement that the snipping did not hurt. The doctor then told the midget to walk around the examining room to see if his testicles still hurt. The midget was absolutely delighted as he walked around the room and discovered his
boys
were no longer aching.
The doctor asked,
"How does that feel now?"
The midget replied,
"Perfect Doc, and I didn't even feel it. What did you do?"
The doctor replied with a smile,
"I cut two inches off the top of your cowboy boots."
And the midget lived happily after.
Adieu!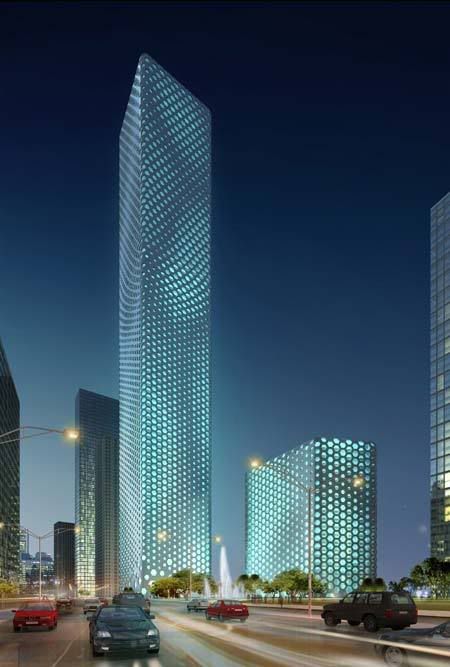 Photograph of the new Sinosteel International Plaza in Tianjin, China.
China is a large country with a history that goes back as far as the human collective mind can remember. China has one of the world's oldest people and continuous civilizations, consisting of states and cultures dating back more than six millennia.
It has the world's longest continuously used written language system, and is the source of many major inventions, such as what the British scholar and biochemist Joseph Needham called the "four inventions of Ancient China": paper, the compass gunpowder and printing.
After the death of Mao Zedong, the new generation of political leaders decided to change the future of China by accepting Capitalism and mixing it with Communism in order to compete with the West. They called this economic and political strategy, "one country two, systems".
"One country, two systems" is an idea originally proposed by Deng Xiaping during the early 1980s, for the reunification of China. He suggested that there will be only one China, but areas such as Hong Kong, Macau and Taiwan can have their own capitalist economic and political systems, while the rest of China uses the "socialist" system.
Based on this pragmatic economic and political strategy, China launched one of the most spectacular economic growth the world has even seen. This dramatic economic growth is often referred to as "China's economic miracle".
Everywhere you turn your head these days, China is being heralded as the next big thing. There's no question the country is on the rise—you can witness the stunning economic growth, massive modernization programs and the rising standard of living in the cities.
Its GDP is growing by 10 percent a year. Industrial production is galloping ahead at an annual rate of 17 percent. Its economy is now the second-biggest in the world, behind only the U.S., and there are predictions it will assume the top spot as early as 2020.
China's integration into the world economy has been astonishingly rapid. Since its adoption of the "Four Modernizations" a generation ago (agriculture, industry, science and technology, and defence) China's share of world economic output has grown from 3.4 per cent to almost 12 per cent in 2000.
One of the most visible signs of China's economic growth is its modern architecture. China is now fertile ground for constructing spectacular buildings challenging those of Dubai. Visitors to China's Summer Olympic Games will marvel in awe as they enter the Olympic venues.
Chins has embraced the so called "Green Architecture". Green architecture is truly touching new heights with the amazing structures that are being built across the globe. These green skyscrapers are not only magnificent fresh designs that help the planet cool down and recuperate from the scars left by man but also add give modern cities a cool new look with designs that are shaped to dazzle and bamboozle all of us.
Currently under construction in Tinajin, China and to be completed in 2012, the 1,175-feet Sinosteel International Plaza and the 289-feet hotel next to it, have hexagonal windows that make them look like the inside of a beehive. The windows are designed in five different sizes, placed in an energy-efficient configuration that will take the most advantage of the sun and wind. This allows the structure to use the minimum possible energy from conventional energy sources.
Besides their rounded corners and weird windows making them look unlike any building ever built, that odd facade serves a more important purpose. Chinese architects MAD Ltd, designed the honeycomb-shaped exterior shells to actually hold the buildings up, freeing up more floor space. This amazing new construction taken up by the architects at MAD, once again shows China's economic miracle in action. and the spread of green architecture across the globe.
Source: de zeen design magazine
Current Mood:

impressed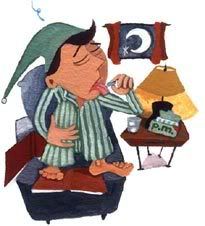 An exhausted looking blonde dragged herself in to the doctor's office. "Doctor, there are dogs all over my neighborhood. They bark all day and all night, and I can't get a wink of sleep."
"No problem, I have good news for you," the doctor answered, rummaging through a drawer full of sample medications. "Here are some new sleeping pills that work like a dream. A few of these and your trouble will be over."
"Great," the blonde answered, "I'll try anything. Let's give it a shot."
A few weeks later the blonde returned, looking worse than ever. "Doc, your plan is not working. I'm more tired than before!"
"I don't understand how that could be", said the doctor, shaking his head. "Those are the strongest pills on the market!"
"That may be true," answered the blonde wearily, "but I'm still up all night chasing those dogs and when I finally catch one it's hard getting him to swallow the pill!"
I had a bad night and couldn't get of wink of sleep either. I'll go back to sleep, but I'm not taking a pill. Arrivederci!
Current Mood:

amused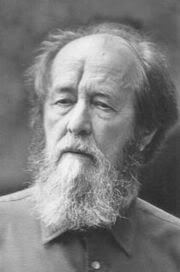 Alexandr Solzhenitzen (1918-2008)
Today is a gray and sad day for all of those who feel a passion for liberty. Being free is a sensation that you can only appreciate when you don't have it. People like Nelson Mandela, Aleksandr Solzhenitsyn and John McCain were imprisoned for a long time and came back to tell us how it was like. They know in spirit, flesh and bone what freedom means.
I read last night that Solzhenitsyn had died. Aleksandr Solzhenitsyn, the Nobel Prize-winning author whose books chronicled the horrors of the Soviet gulag system, has died of heart failure, his son said Monday. He was 89. Stepan Solzhenitsyn told The Associated Press his father died late Sunday, but declined further comment.
I first head about Solzhenitsyn when I was studying at the University of Costa Rica. I was very young then; only 18 years old. I purchased his 1962 short novel dubbed, "One Day in the Life of Ivan Denisovich," at the college library and read it in one night. The impressions of this book has lasted to this day. It was, and still is, difficult to understand to what degree a human being can be degraded by another human being. Hommo homini lupus (Man is a wolf to man) were the famous words of Plautus more than two thousand years ago.
I tried to read his most famous book, "Gulag Archipelago", but couldn't find it. Perhaps I would go out later today and see if it's available in Panama City.
Through his writings, Solzhenitzen made the world aware of the Gulag, the Soviet labor camp system, and for these efforts, Solzhenitsyn was both awarded the Nobel Prize in Literature in 1970 and exiled from the Soviet Union in 1974. He returned to Russia in 1994. That year, he was elected as a member of the Serbian Academy of Sciences and Arts in the Department of Language and Literature.
When Alexandr Solzhenitzen's "One Day in the Life of Ivan Denisovich," appeared in the thick monthly literary magazine Novy Mir back in November of 1962, taboos were shattered. Buried secrets were unearthed. And the Soviet Union was shaken to its foundations.
Solzhenitsyn's short novel described a single day in the life of a carpenter caught up in the Soviet Union's secret network of slave labor camps, where starvation, bitter cold and punishing work regimes were the rule and, it has been said, the average life expectancy was only one winter.
The author was working as a provincial math teacher, and his greatest work,"The Gulag Archipelago" was still to come. But "One Day" was to shock the U.S.S.R. and the world.
Even though he received shelter and many awards while he was exiled in the West. He had the courage to criticize Western culture for what he considered its weakness and decadence.
In a testimony to the U.S. Congress on July 8, 1975, Solzhenitsyn said:
"Until I came to the West myself and spent two years looking around, I could never have imagined to what an extreme degree the West had actually become a world without a will, a world gradually petrifying in the face of the danger confronting it . . . All of us are standing on the brink of a great historical cataclysm, a flood that swallows up civilization and changes whole epochs."
Today is a gray and sad day for those who understand and cherish the value of freedom. Rest in peace Solzhenitsyn; you've earned it.
A few minutes before the church services started, the congregation was sitting in their pews and talking. Suddenly, Satan appeared at the front of the church. Everyone started screaming and running for the back entrance, trampling each other in a frantic effort to get away from the evil incarnate.
Soon the church was empty except for one elderly gentleman who sat calmly in his pew without moving, seemingly oblivious to the fact that God's ultimate enemy was in his presence.
So Satan walked up to the man and said, "Do you know who I am?"
—The man replied, "Yep, sure do."
—"Aren't you afraid of me?" Satan asked.
—"Nope, sure ain't." said the man.
—"Don't you realize I can kill you with one word?" asked Satan.
—"Don't doubt it for a minute," returned the old man, in an even tone.
—"Did you know that I can cause you profound, horrifying AGONY for all eternity?" persisted Satan.
—"Yep," was the calm reply.
—"And you 're still not afraid?" asked Satan.
—"Nope," said the old man.
—Totally perplexed, Satan asked, "Why aren't you afraid of me?"
—The man calmly replied, "Been married to your sister for 48 years."
If I got a faint smile on your face, I feel totally satisfied. If not, I'll try harder next time. Bye now!
Current Location:

Panama City, Panama

Current Mood:

amused

Current Music:

Las Hojas Muertas by Andrea Bocelli
The National Stadium, venue of the opening and closing ceremonies with a capacity of 91,000 persons.
After a long wait of seven year, the Chinese people are anxiously waiting for the opening of their spectacular 2008 Summer Olympic Games next week.
The 2008 Summer Olympic Games, officially known as the Games of the XXIX Olympiad is a Summer Olympics event, that will be held in Beijing, People's Republic of China from August 8 to August 24, 2008. 10,500 athletes are expected to compete in 302 events in 28 sports, just one event more than the 2004 games.
This will the most expensive of all Olympic Games ever held. The Chinese government has promoted the games to highlight China's emergence on the world stage and has invested heavily in new facilities and transportation systems.
When the Chinese Communist regime planned the budget for the Summer Olympic Games years ago, the budget was estimated at 30 billion Yuan. However, by the end of March 2008, the estimate has gone up to over 400 billion ($58.5 billion).
According to "Zheng Ming Magazine", The Beijing Olympic Games are listed as the top priority of the four major tasks in 2008 by the Chinese Communist regime. After China won the bid to host the Olympic Games, the Chinese Communist regime estimated that the cost would be between 28 to 30 billion Yuan; this included the cost for building stadiums, the Olympic Village, a complete transport package and subsidiary facilities.
However, the budget kept going up every year. By the end of March 2008, the cost has gone over 400 billion, and more funding is required from the central government to cover the cost for security, subsidiary facilities and maintenance work.
The Olympic Games have been used by the Chinese Communist Party (CCP) as another one of their "face projects" and they are trying to beautify things at all costs. According to the latest estimate by the Beijing Olympic Game Organizing Group, the total expenditure in relation to the Olympic Games will be as high as 65 billion U.S. dollars, equivalent to 450 billion Yuan. The current total cost will be five times the cost of the 2004 Olympic Games in Athens.
Driven by the "face project" mentality, the CCP officials are extremely extravagant when it comes to spending money and this is the fundamental reason for the record cost of the Beijing Olympic Games.
When will the Beijing's 2008 Olympic Games raise its curtains? It's a symbolic number marked by the number eight. The Beijing Olympics will be broadcasted live starting at 8:08:08 in the morning of August 8th (US EST). It will be at 8th second of the 8th minute of the 8th hour of the 8th day of the 8th month (August) of the 8th year in the millennium. (8:08.8 08/08/2008).
If you like huge entertainment exhibitions, this event should be on your top list. Earlier in 2007, former IOC president Juan Antonio Samaranch had said that he believes that the Beijing games will be "the best in Olympic history," Remember that August 8th is next Friday. Au revoir!
July is now over and soon we will hear soft children's voices singing the classical Christmas carols. It's incredible how time flies. It was only yesterday I was toasting for a Happy New Year 2008.
Now that July is over, I'm eager to find out who was the winner in the monthly web browser's frantic race. According to statistics from Net Applications, Mozilla Firefox continues to be the clear winner and Safari the clear loser.

Below is a table showing the performance of the top browsers:
Top Browsers Market Share - July 2008
(Expressed in Percentages)
| | | | |
| --- | --- | --- | --- |
| Web Browser | July | June | Difference |
| Internet Explorer | 73.02 | 73.01 | 0.01 |
| Firefox | 19.22 | 19.03 | 0.19 |
| Safari | 06.14 | 06.31 | 0.17 |
| Opera | 0.69 | 0.73 | 0.04 |
| Netscape | 0.69 | 0.67 | 0.02 |
| Others | 0.24 | 0.25 | 0.01 |
| Total: | 100 | 100 | 0 |
Comments:
Mozilla Firefox continued to increase its global market participation, but not at the expense of Internet Explorer which held its ground in June. Almost one of every five Internet user uses Firefox as its preferred browser. I would have sworn Firefox was going to reach the 20 percent landmark in July as a result of the fanfare created by Firefox 3. However I have to admit the new version did pretty well. It reached 5.67 percent of the market in July compared to 2.31 percent in June. That's pretty good.

With more and more Web 2.0 applications becoming available, the browser is becoming as important as the operating system. And, with the proliferation of mobile devices and the many new ways to access the Internet, the browser becomes ever more critical. Users are demanding more features, better security, complete site rendering compatibility (standards), and now rendering speed is becoming a differentiator.

Apple Safari is losing its charm. It lost 0.17 percent in July even though the iPhone was raising eyebrows everywhere and the Mac computer was selling like hot cakes.

Opera browser for desktops is not attractive to mainstream users. Their hot spot is in the mobile arena where they lead the pack by a wide margin.

And last, but certainly not least, Netscape is a die hard guy. Even though AOL pulled the plug from this legendary Internet icon, it still attracts web users. In July it crawled to a 0.69 percent global market share tied up with Opera.

That's it folks. Let's keep our fingers crossed and see if Mozilla Firefox breaks the 20 percent barrier next month. Arrivederci!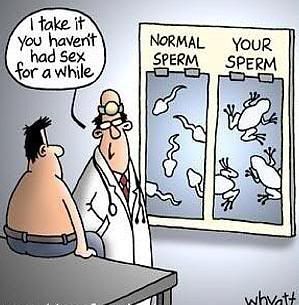 I take it you haven't had sex for a while.
No further explanation is required. Good Day!
Current Location:

Panama City, Panama

Current Mood:

amused

Current Music:

Seasons in the Sun by Ray Coniff
I have been using
del.icio.us
for several months, and let me tell you, I don't know what I would do without it. What I like about this site, is that no matter what computer or browsers use, I can access all my bookmarks by just clicking a few links.
Normally I use about five different browsers for my blogging activities. Each one of them serves a different purpose. Therefore, I needed a place in the cloud, where my favorite bookmarks are readily available. That's where
del.icio.us
comes in handy.
To my pleasant surprise,
Yahoo's Development Team
made a marvelous job by revamping the
Delicious
website and changing the name of the place. Notice that it's not
del.icio.us
anymore. Now the spelling has been updated to
Delicious
. I like the new name better. It's a no brainier to spell it.
Yahoo has revamped Delicious, saying the site for storing, describing, and sharing Web site bookmarks is faster, easier to use, and has better search abilities.
The speedup comes from a new server system that's snappier and more reliable, Yahoo said on its
Delicious blog
on Thursday.
"You may not have noticed, but the old back-end was getting creaky under the load of 5 million users,"
the company said.
The older Delicious limited descriptions of bookmarks to 255 characters, a cap that gave some appeal to rivals such as Magnolia, but the new Delicious raises it to 1,000 characters. Though Yahoo is working to unify its profiles, Delicious accounts are still separate from those at
Flickr
and
Yahoo Mail
. Users will need to log into their accounts and get a new browser cookie.
Here's Yahoo's official word on the changes:
Speed: We've moved to a new infrastructure that makes every page faster. This new platform will enable us to keep up with traffic growth while ensuring Delicious is responsive and reliable...

Search: We've completely overhauled our search engine to make it faster and more powerful. Searches used to take ages to return results; now they're very quick. The new search engine is also smarter, and more social: you can search within one of your tags, another user's public bookmarks, or your social network. Now it's easier to take advantage of the expertise and interests of your friends, not to mention the Delicious community at large.

Design: Finally, we've updated the user interface to improve usability and add a few often-requested features (such as selectable detail levels and alphabetical sorting of bookmarks). Our goal has been to keep the new design similar in spirit to the old one, so all of you veterans should be able to jump in without any confusion. At the same time, we're hoping that newcomers to Delicious will find it easier to learn.

Today Jerry Yang will meet with the enlarged new Yahoo Board of Directors where he could find stiff and angry faces. After successfully fending off takeover attempts by Microsoft and billionaire Carl Icahn, Yahoo Chief Executive Jerry Yang could face a new group of critics today: mom-and-pop shareholders.
One shareholder who won't attend is Carl Icahn. In a blog post Thursday morning, Icahn wrote: "It will not do shareholders or Yahoo any good to have the annual meeting turn into a media event for no purpose."
Icahn said he had met with Yang and board Chairman Roy Bostock and while he still disagrees with them on many points, he said, "I have great hope 'this will be the beginning of a beautiful friendship.' "
I hope everything ends well at the shareholder's meeting. In my opinion, Jerry Yang has done a tremendous job at Yahoo in its takeover struggles with ubiquitous Microsoft. There are so many things Yahoo can do to contribute to the development of Web 2.0. The new Delicious 2.0 is a good example. Good luck Jerry!